PRODUCCIÓN DE INTELIGENCIA
El equipo de GIASP ofrece servicio de consultoría y análisis a empresas, organizaciones e instituciones para cubrir las necesidades de información y conocimiento a nivel estratégico, operativo y táctico con horizonte prospectivo. Se aplican técnicas de análisis y de gestión de la información para responder a los objetivos y necesidades y para ofrecer visión prospectiva y de oportunidad ante los constantes desafíos de seguridad, geoestratégicos y económicos.
Informes económicos competitivos y de seguridad estratégica


Nota informativa – Análisis temático (seguridad, geoestrategia, defensa…)

Comunicación Estratégica e influencia

Hotspots y alerta temprana
El pase de diapositivas requiere JavaScript.
FORMACIÓN
El departamento de formación, constituído por profesores titulares ofrece enseñanza superior y especializada en las distintas áreas: Economía y Seguridad. Es una enseñanza eminentemente práctica y de aplicación en las diferentes funcionalidades en el campo de la Inteligencia estratégica, competitiva y empresarial. Además, se ofrecen cursos de alta especialización "ad hoc" para solucionar las vulnerabilidades de las organizaciones, así como para potenciar las capacidades de las diferentes corporaciones. Toda esta enseñanza se materializa en el desarrollo de formación especializada en varias áreas (Geoestrategia, Seguridad, Economía…).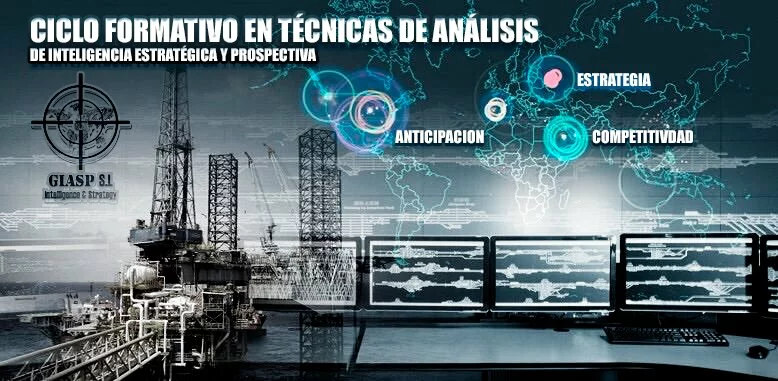 Contacta con nosotros: giasp@intelgiasp.com
COLABORA
El equipo de GIASP comparte el entusiasmo y abre la oportunidad a quienes deseen formar parte de este proyecto y ofrecer un material de calidad de Inteligencia para servir y aportar a la comunidad de seguridad y defensa.
Aunque somos un grupo incipiente, el formar parte de este equipo es una oportunidad de crecer y de profesionalizarse en estos temas para dar, desde nuestras capacidades, conocimientos y especialidades, lo mejor de cada uno en servicio del bien común, con una mirada prospectiva y analítica hacia la prevención y la seguridad.
REQUISITOS GENERALES
Formación en materias de Seguridad, Defensa, Relaciones Internacionales, Política, Derecho, Economía, Psicología, Criminología, Historia, Materias humanísticas y sociales, Nuevas Tecnologías, Medios de Comunicación…
Idiomas: Español e Inglés (nuestros trabajos y proyectos se elaboran en ambas lenguas para difusión internacional).
Enviar CV e intencionalidad de cooperación al correo: giasp@intelgiasp.com
Gracias a todos, os animamos a participar
Saludos del Equipo GIASP
---
INTEL PRODUCTION
The team of analysts of GIASP offers analysis services to companies, organizations and institutions to cover the information and respond to the strategic, operational and tactical needs with a prospective horizon. Analysis and information management techniques are applied in the products in order to respond to the goals and needs of companies & institutions offering foresight and strategic vision focused on opportunities facing security, geostrategic and economic challenges.
Economic/competitive & security reports

Thematic analysis on Security, GeoStrategy, Economy…

Strategic Communication & influence

Hotspots and Early warning
FORMATION
The Formation Department offers high and specialized education in different areas: Economy, Security and Strategy. It is an eminently practical teaching and application in the different functionalities. In addition, high-specialization courses are offered "ad hoc" to solve the vulnerabilities of organizations, as well as to enhance the capabilities of different corporations. All this teaching is materialized in specialized training and formation and its application (Geostrategy, Security, Economics …).
Contact with us: giasp@intelgiasp.com
COLLABORATION
The GIASP team shares the enthusiasm and opens the opportunity for those who wish to join this project and offer Intelligence material to serve the community and to contribute to security and defense.
Although we are an incipient group, to be part of this team is an opportunity to professionalize on these issues, to increase our skills, knowledge and expertise, to give the best of each other in order to serve for the common good through a prospective and analytical perspective, in order to achieve prevention and safety.
GENERAL REQUIREMENTS
Education and experience in security, defense, international relations, politics, law, economics, psychology, criminology, history, humanities and social sciences, New Technologies, Media …
Languages: Spanish and English (our work and projects are developed in both languages in order to achieve an international distribution).
Send your CV and your cooperational intention to this e-mail: giasp@intelgiasp.com
Thanks to all, we encourage you to participate
Greetings from GIASP team