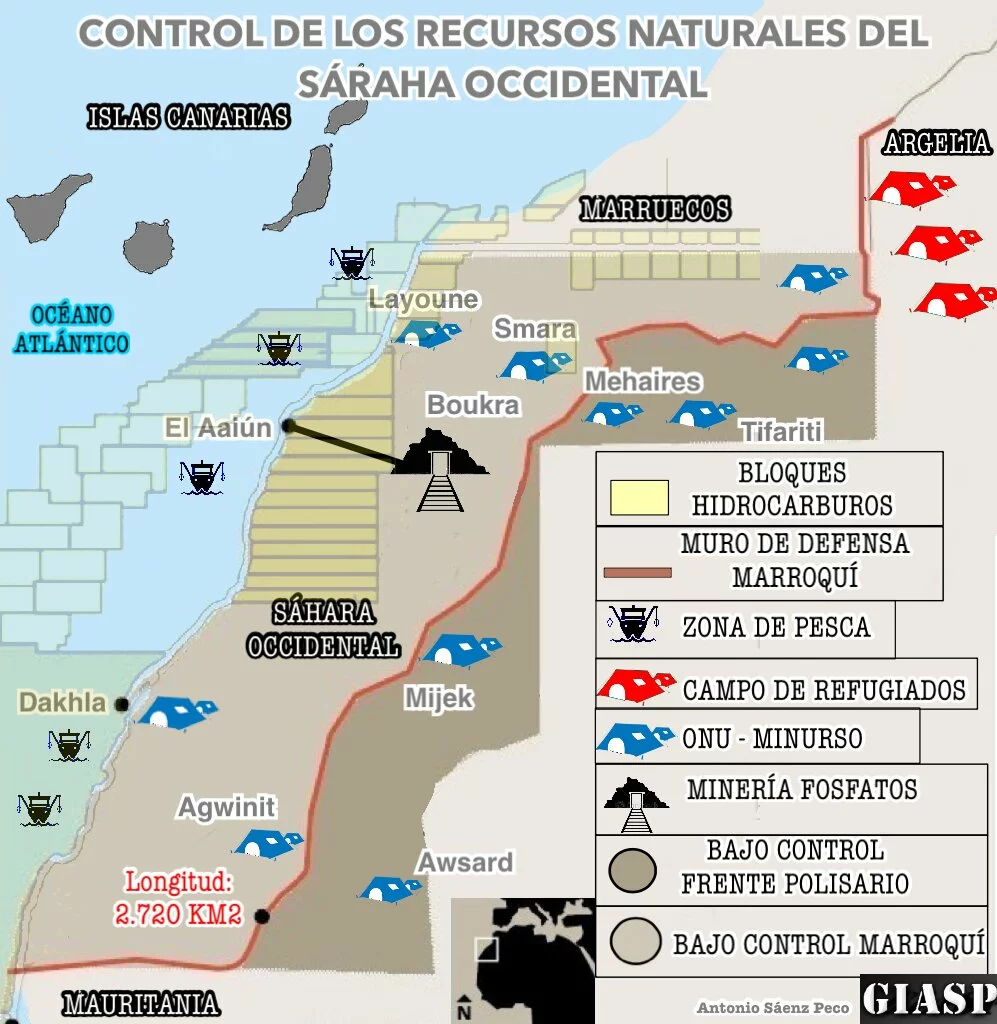 Introducción:
Marruecos comercializa productos procedentes del Sáhara Occidental sin que ello reporte en beneficios para la población saharaui. El Sáhara Occidental es privado de los beneficios generados por Marruecos con la comercialización de productos agrícolas, pescado, fosfatos, sal y No existe ninguna base legal que justifique la presencia de Marruecos en el territorio.
España no cumple las obligaciones contraídas con las Naciones Unidas como Potencia Administradora del Sáhara Occidental. España tiene la obligación política de facilitar la descolonización del territorio.
La explotación y comercialización de los recursos naturales del Sáhara Occidental por parte de Marruecos genera obstáculos para la independencia de este Territorio No Autónomo.
Precedentes judiciales:
2014: varias sentencias de la Audiencia Nacional de España reafirman que el Sáhara Occidental no pertenece a Marruecos.
2016: el Tribunal de Justicia de la Unión Europea, dictaminó como valido el acuerdo de liberalización del comercio mantenido entre la UE y Marruecos, argumentando que el acuerdo no hace mención expresa a su aplicación en el Sáhara Occidental.
2018: El Tribunal Europeo de Justicia de Luxemburgo legitimó el acuerdo de pesca vigente entre la UE y Marruecos, sin embargo, excluyó de dicho acuerdo el mar que limita con el territorio del Sáhara Occidental.
Acuerdo de pesca entre la UE y Marruecos:
Entró por primera vez en vigor en el año 2007, por un periodo de 4 años, y ha sido prorrogado en dos ocasiones. El Protocolo de pesca actual se aprobó en diciembre de 2013 y su vigencia expira en julio de 2018.
El acuerdo permite a 126 buques de la UE (90 pertenecientes a la flota española) faenar en aguas marroquíes a cambio de 30 millones de euros al año. De dicha partida, 14 millones van destinados al desarrollo del sector pesquero de Marruecos.
A favor del Acuerdo de Pesca aprobado en 2013 se manifestaron 310 europarlamentarios, hubo 50 abstenciones y 204 en contra, aquellos que consideraban una ilegalidad, contraria al Derecho Internacional, incluir las aguas del Sáhara Occidental, Territorio No Autónomo ocupado militarmente por Marruecos.
La sentencia del Tribunal de Justicia de la UE de febrero de 2018 determina que la inclusión del mar del Sáhara en los acuerdos pesqueros UE-Marruecos, supondría quebrantar el principio de libre autodeterminación recogido en los Tratados de Derecho Internacional suscritos por la UE.
Actores Implicados: 
UE:

El 91% de las capturas que efectúa la flota comunitaria tienen lugar en aguas del Sáhara, el resto en aguas de Marruecos.
Reticencias del Parlamento Europeo hacia el acuerdo de pesca comunitario: políticas (acuerdo afectaba a aguas del Sáhara Occidental), ecológicas (sobreexplotación de los caladeros), económicas (baja rentabilidad de las inversiones) y sociales (los fondos europeos no iban hacia la población saharaui).
Tras la sentencia que excluye las aguas del Sáhara del acuerdo de Pesca UE – Marruecos, la Comisión de Pesca del Parlamento Europeo se posicionó a favor de iniciar negociaciones con el Frente Polisario.
La UE y Marruecos se encuentran actualmente en negociaciones con el fin de acordar un nuevo protocolo de pesca que sustituya al actual, cuya validez expira el próximo mes de julio.

Marruecos:

Marruecos ha manifestado su descontento, advirtiendo que no admitirá un acuerdo de pesca que excluya las aguas del Sáhara Occidental.
El reino alauí  advierte que la seguridad en Europa se vería deteriorada de no renovarse el acuerdo. En este sentido, Marruecos amenaza a la UE con el control de sus fronteras, pudiendo favorecer la entrada de terroristas, drogas e inmigración irregular.
España:

De las importaciones de pescado realizadas por España, menos del 10% provienen de Marruecos. Existen empresas españolas cuya actividad está vinculada a la pesca en aguas del Sáhara Occidental. Los productos importados por Marruecos procedentes del Sáhara hacen competencia directa a los productos españoles.

Frente Polisario (FP):
El FP  ha instado a la flota pesquera española para que abandone de forma inmediata el mar del Sáhara.
El FP  amenaza a España con poner fin a los vuelos que operan entre las Islas Canarias y el Sáhara Occidental, amenazando con el deterioro de  las relaciones comerciales entre ambos territorios.
La defensa jurídica del FP  exige a la Comisión Europea 240 millones de euros argumentando una explotación ilegal de los recursos naturales del Sáhara Occidental.
---
Introduction:
Morocco sells products from Western Sahara without any benefit for the Saharawi population. Western Sahara is deprived of the benefits generated by Morocco with the commercialization of agricultural products, fish, phosphates, salt and sand. There is no legal basis to justify the presence of Morocco in the territory.
Spain does not fulfill the obligations contracted with the United Nations as the Administrative Power of Western Sahara. Spain has a political obligation to facilitate the decolonization of the territory.
The exploitation and commercialization of the natural resources of Western Sahara by Morocco generates obstacles for the independence of this Non-Self-Governing Territory.
Legal precedents:
2014: several judgments of the National Court of Spain reaffirm that Western Sahara does not belong to Morocco.
2016: the Court of Justice of the European Union, ruled as valid the trade liberalization agreement maintained between the EU and Morocco, arguing that the agreement does not expressly mention its application in Western Sahara.
2018: The European Court of Justice of Luxembourg legitimized the fisheries agreement in force between the EU and Morocco, however, it excluded from this agreement the sea that borders the territory of Western Sahara.
Fishing agreement between the EU and Morocco:
It entered into force for the first time in 2007, for a period of 4 years, and has been extended twice. The current fishing protocol was approved in December 2013 and its validity expires in July 2018.
The agreement allows 126 EU vessels (90 belonging to the Spanish fleet) to fish in Moroccan waters in exchange for 30 million euros per year. Of this item, 14 million are destined to the development of the Moroccan fishing sector.
In favor of the Fishing Agreement approved in 2013, there were 310 MEPs, there were 50 abstentions and 204 against, those who considered an illegality, contrary to International Law, to include the waters of Western Sahara, a Non-Self-Governing Territory militarily occupied by Morocco.
The judgment of the Court of Justice of the EU of February 2018 determines that the inclusion of the Sahara Sea in the EU-Morocco fishing agreements would violate the principle of free self-determination included in the Treaties of International Law signed by the EU.
Actors Involved:
EU:
91% of the catches made by the Community fleet take place in the waters of the Sahara, the rest in Moroccan waters.
European Parliament reluctance towards the EU fisheries agreement: policies (agreement affecting Western Sahara waters), ecological (overexploitation of fishing grounds), economic (low profitability of investments) and social (European funds were not going towards the Saharan population).
Following the judgment that excludes the waters of the Sahara from the EU – Morocco fisheries agreement, the European Parliament's Committee on Fisheries was in favor of starting negotiations with the Polisario Front.
The EU and Morocco are currently in negotiations in order to agree on a new fishing protocol to replace the current one, whose validity expires next July.
Morocco:
Morocco has expressed its discontent, warning that it will not accept a fisheries agreement that excludes the waters of Western Sahara.
The Alawi state warns that security in Europe will be deteriorated if the agreement is not renewed. In this sense, Morocco threatens the EU with the control of its borders, being able to favor the entry of terrorists, drugs and irregular immigration.
Spain:
Of the imports of fish made by Spain, less than 10% come from Morocco. There are Spanish companies whose activity is linked to fishing in the waters of Western Sahara.
Polisario Front (PF):
The PF has urged the Spanish fishing fleet to leave the Sahara Sea immediately.
The PF threatens Spain with an end to flights operating between the Canary Islands and Western Sahara, threatening the deterioration of trade relations between both territories.
The legal defense of the PF requires the European Commission 240 million euros arguing an illegal exploitation of the natural resources of Western Sahara.
Antonio Sáenz Peco